+++++++++ NEW IN THE RANGE +++++++
Textile Window Film
This is the strong combination of net curtains and foil in one. Beautiful colors with which you can combine your glass with your interior! Unobstructed view to the outside, but (almost) no view inside. Not even in the evening!
A quality that no other film can match!
The possibilities of the textile foil are endless. Sticks to all flat glass surfaces. It doesn't matter if your windows are round, triangular or square. Whether it concerns the windows of your conservatory, skylights or bathroom. As soon as the film sticks to the window, you can easily cut our film to the desired size.
The Textile Window Foilis moisture and heat resistant up to a temperature of 60 degrees Celsius and thus meets the legal requirements for fire resistance standard B1. That is why textile foil can also be used in rooms with strict fire protection regulations.

Because the adhesive strength of textile foil is not or hardly affected by moisture, it is also possible to use the self-adhesive textile foil in the bathroom, in the kitchen or in the garage. Due to its woven structure, Textile foil is also suitable for use on insulating glass or laminated glass. (with the exception of the black self-adhesive textile foil).
Material:
Fabric: Polyester
Lining: polypropylene
Fabric thickness: 0.3 mm
Width of fabric: 130 cm
Roll length: 50 m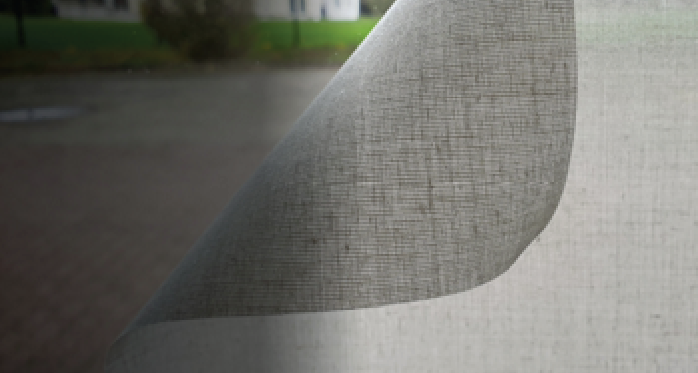 Properties:
Privacy and transparency
Sun protection Natural and minimalistic
Of high quality
Can be used on all types of glass
Partial coating possible.

Cleaning:
What can I do? What am I not allowed to do?
Dust can be removed with a lint-free cloth or a vacuum cleaner with brush. Make sure the brush is clean
If dust particles do not come off easily, a lint roller can be used. Light stains can be removed with water and a microfibre cloth.
Heavier stains can often be removed with a pH-neutral, water-based / solvent-free cleaner. Due to the great variety, it is recommended to test the product on a small surface. Do not clean
Textile Wrap with a wet sponge, steam or water jet, as it can lose its adhesive properties. Do not remove and / or wash the product.
The adhesive loses its strength and cannot be reapplied. If a window is partially covered with textile foil, clean the part that is not covered with foil with a microfiber cloth and glass cleaner.
Montage:
SQUID and TEXTIFOIL films can be installed on smooth and flat surfaces such as glass, polished stainless steel and painted surfaces. Before applying the film, the surface should be thoroughly cleaned with a mixture of water or alcohol and dried with a lint-free cloth. The mounting surface must be dry and at least 10 degrees Celsius to ensure good adhesion. Measure the size of the surface to be covered and cut the material about 10 cm larger. Remove the first 10-15 cm of the backing paper, taking care not to distort or stretch the film. Apply the foil from top to bottom by slowly pulling off the liner. Use firm and even pressure with a squeegee or rubber roller to stick the foil to the glass surface. Cut off the excess foil with a ruler with a sharp knife. Be careful not to damage the rubber seals on the window. Textile foil can also be applied on larger surfaces. The best result is achieved with an almost invisible seam by first applying the foil with an overlap on the window and cutting the overlap with a sharp knife (wallpaper cut). Be careful not to damage the window glass. This can be prevented by first applying a strip of textile foil as a third layer under the seam. Remove the excess material after cutting.