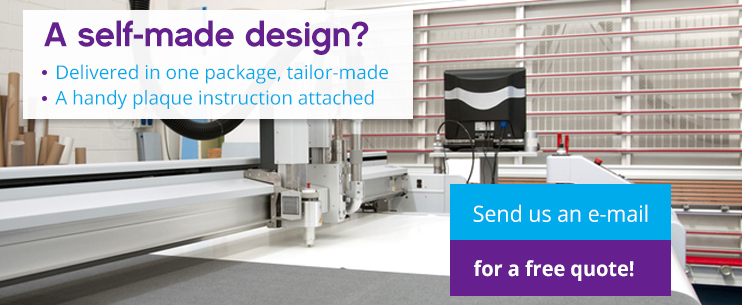 Windowfilm at your own design?

Are you looking for a custom-made windowfolie? With your own design, for example, your company logo, your favorite photo or image? Everything is possible. The designs are processed from privacy frame film, uni-color window film or print film. We have a high-quality cutter and color printer that we can make (almost) everything! This way you can provide your home or office with this unique foil. Privacy film, or sandblast foil and uni-color window foil make excellent processing in our cutting plotter. This way you can create and deliver your own designs! The foil is delivered by us. It was never so easy to apply your personal taste.

The full-color's are processed on the color printer. The foil has a width of 160 cm, which can deliver very large sizes from 1 piece. The printed foil is provided with a laminate. This provides protection from UV discoloration and damage. All photos can be printed. Please note that the picture is a few MB's!

Deliver your windowdesigns

How to submit your files / drawings? Very simple, just send an email with your drawings or files. We will then review and assess what is possible and not possible. You can send the files or drawings to the following email address: info@raamfolie-winkel.nl

Windowfilm with its own design

By default, we provide a clear plaque instruction. Through the plaque instructions, we will explain how to apply the window foil. Are not you sure? No problem! You can always call us or email for tips / instructions. Would you rather have it assembled by our assembly team? Send us an email! (We assemble between +/- 20m2)

Are you interested in any of the following "Window Foil Own Design" options? Please feel free to contact us!
Email adress:
info@raamfolie-winkel.nl
Would you like to be assisted by phone ?
Phone: 085 201 93 42 ( mo/fr 09.00 - 21.00 )



Own Design: Privacy Windowfilm









Own design: Uni-color film







Own design: Full-color Windowfilm



Are you interested in any of the above custom design options? Please feel free to contact us!